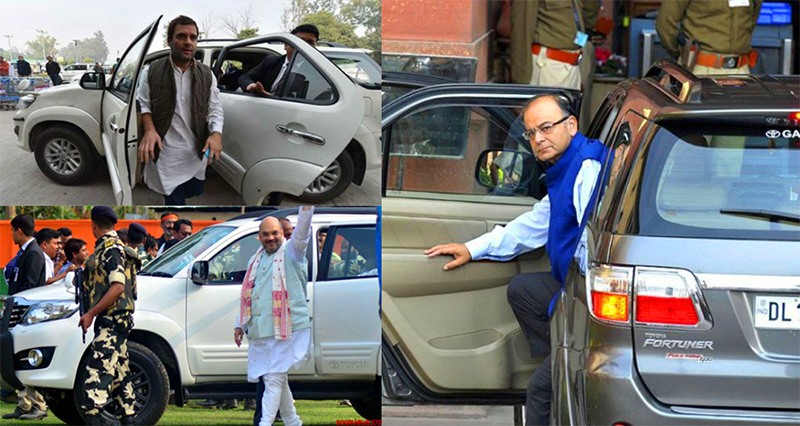 The Toyota Fortuner is an astonishing, elegant, and easy to drive car. It is the best selling car in the SUV category. This distinctive car was launched on August 25, 2009 in India. The current price of this car ranges from 38 lakhs to 60 lakhs. The prices may vary in different cities of India. However, this car is really popular among many politicians of India as you can see that no matter how many cars a politician may own, he must be having a Toyota Fortuner for sure. But what is so unique about this car that every other politician is seen with it? There can be many reasons behind it. Well there's no doubt that the Toyota Fortuner looks really elegant and has a classy overall look. Its unique features and amazing look makes it appear more intimidating among the rich and elite people like the politicians of the country. Maybe the car is a sign to convey everyone the message about the travelling of a politician in the same. All of these politicians have made this car as a signature car for them. So whenever someone passes by a Fortuner, he would know that there is some rich politician inside whom no one should mess with.
Moreover, we all know how well renowned is the Toyota Company. Along with its long durability, the Toyota vehicles are known for having impressive resale value. According to Kelley Blue Book, the Toyota brand is ranked as having one of the highest resale values. Safety is also another critical factor to consider when purchasing a vehicle, and Toyota makes that a top priority. So maybe that's one another reason why these politicians prefer this car above others. Although there are so many great cars, which have proved themselves to be better than Fortuner but still these politicians prefer buying at least one Fortuner for them. Well a Fortuner is also an SUV which makes easier for the politicians to conduct rallies which is not easy in other cars.
Politicians also require extra security and that's why Fortuner is chosen by them because due to it's famed off road credentials, it helps escape and prevent injuries if there is an attack on the individual. Also it luxurious feature makes it quite famous among the rich people. New models of Toyota fortune have also been launched
and thus its muscular look makes it more attractive and superior as establishing supremacy over other road users and as we all know, bigger is better in India.
Also, there are so many music artists who have talked about Fortuner in their songs and no doubt those songs have gained a lot of popularity among the audience. These songs have even made this car more popular and thus anyone who has a Fortuner feels superior when he plays these songs while driving or even while
conducting rallies, the politicians play songs made on Fortuner. There's not one reason to focus on while deciding why politicians love Toyota Fortuner but there are so many different reasons behind the same. Other reasons can be that politicians have to travel a lot, they have to attend many events and are busy most of the time and that's why they need a car which can take them anywhere at any point in time, without a second thought and therefore Fortuner is an ideal choice due to its go-anywhere attitude and off-road capability. Also this car relatively requires cheap maintenance, and for a car that has a high running every day, this is a boon for the pocket. Thus, it would not be wrong to call Fortuner as 'the most favourite vehicle' of the politicians as it has been the most bought car in India by a lot of politicians.
Name- Bhavya Khurana
Course – BA hons English
University – Delhi University (Dyal Singh College)