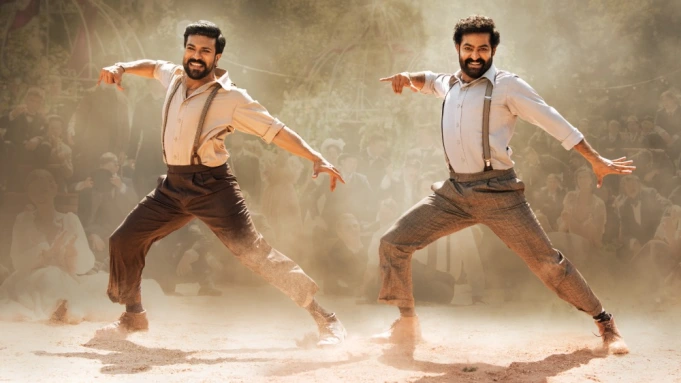 "RRR" or "Rise, Roar, Revolt" has become a globally acclaimed movie by winning over audiences and bagging several international awards. It is one of the most expensive Indian movies ever made. It is also one of the most successful and highest grossing Indian movies. The movie has been the most watched movie on Netflix India and has been among the top 10 most watched movies on Netflix globally. With the recent win at Golden Globes Awards for the best original song- 'Naatu Naatu', the movie is attracting more attention on the global stage. The movie has also won several other international awards like Saturn award for best international film, Critics Choice award, etc. and many other nominations.
The Telugu language Indian movie directed by S.S.Rajamouli has become a worldwide super hit. The movie has an amazing and talented star cast consisting of Aalia Bhatt, Jr.NTR, Ram Charan and many others. The plot of the movie is set in the early 1920's when India was a British colony. The story is about patriotism, liberation and the struggles that come with it. The story is well written and was beautifully brought to life by the talented cast and crew.
The two main characters of the movie are based on Alluri Sitarama Raju and Komaram Bheem, who were two very real Indian freedom fighters from South India. In this imaginary story these two characters come together and stand against the Britishers. The movie is a work of fiction and only the characters are based on real life freedom fighters.
The fantasy world of Rajamouli also used many praiseworthy VFX and CGI effects. RRR has used the best special effects to make the movie experience as real as possible. From forest, animals to the background effects everything has been perfect. These effects made the movie more thrilling. India is still trying to catch up with the best in the field of VFX and CGI but the effects used in this movie are the best till date.
The efforts of the people involved in this movie is clearly seen and appreciated by the people both in India and throughout the world. The Western countries are loving it the most because of its story, songs, dance numbers, and action sequences. The people are enjoying the long run time of the movie to its fullest. The movie has also received criticism from few like the UK. The fact that the Britishers are depicted as villains is hard to accept for them.
RRR is a typical Indian movie with a lot of drama, dance, songs and mind blowing actions but its depiction and scale are different from all others. The film was able to capture people's attention and keep them interested. THe global recognition gained by this movie is phenomenal and will wave a way for others Indian movies as well.
Shruti Singh

BSc Maths

Banasthali Vidyapith